Weather by WeatherBug: Real Time Forecast & Alerts
Accurate Weather Forecast for Your Area
If you want to remain updated with the current weather conditions all over the world then you are going to find this weather forecast app to your liking. Weather by Weatherbug is a cool app that lets you stay on top of the weather conditions in your area and keeps you informed about storms and rain. It offers accurate weather information and ensures that you are able to plan your outdoor activities beforehand. You will have both the hourly and the 10-day weather forecast available to you. It will let you know when and where it will be raining, so you can plan for it in advance. In addition to keeping you updated about the weather, this app will send alerts to you regarding severe weather conditions too.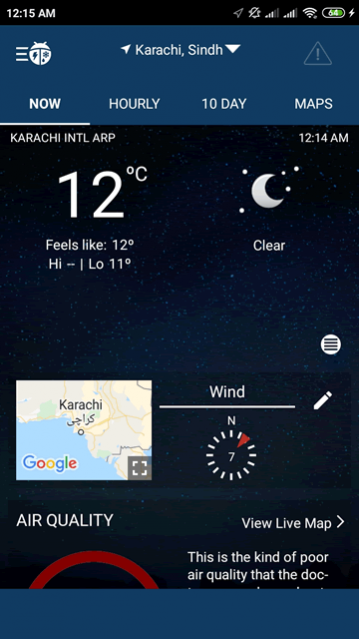 Weather by Weatherbug has an intuitive user interface that complements its user-friendly design and layout. The combination of these two features makes using this app an easier proposition for one and all. This app uses the GPS of your phone to pinpoint your location and provides weather information about that particular area upon launch. The weather information available includes the current temperature and weather condition. If you scroll down, you will find information regarding the wind speed and direction as well as the air quality in your area. To find out the weather forecast for the coming days, you can either view the hourly or 10-day forecasts. There are separate tabs available for both these features. You just need to swipe left on your screen to view them.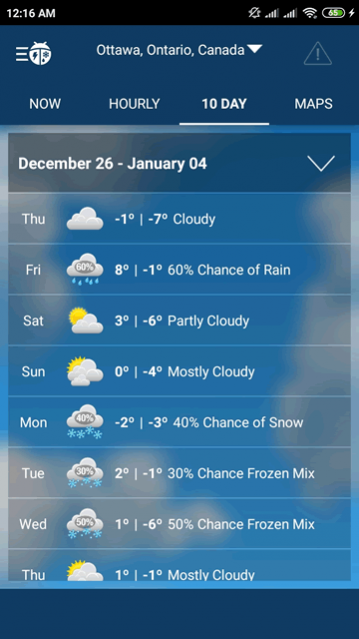 The weather forecast you are provided on this app is very accurate. It is sourced from various weather stations all over the world. You are offered the chance to learn about the weather conditions and forecast in other areas of the world in this app too. To add a new location you need to click the arrow button located alongside the location name at the top bar of the home screen. It will lead you to a new screen where you can search and add the location of your choice. You can add multiple locations and get updates about their weather conditions. There is the option available to prioritize the weather information of one location over the other by placing it ahead of the queue.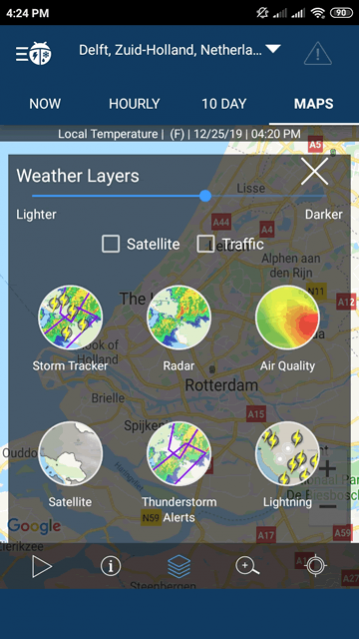 Weather by Weatherbug has a detailed weather map to offer you as well. This weather map gives you the chance to see different weather parameters plotted on a live map of your area. There are various layers available that represent different aspects of weather like rainfall, temperature, pressure, storms, lightning, and much more. This interactive map can be used for viewing weather conditions in any part of the world. This weather forecast app also provides alerts to you if there is inclement weather expected in your area. These alerts can help you take security measures quickly and locate to a safe place.
Features:
Intuitive user interface
User-friendly design and layout
Get accurate weather forecasts
Hourly and 10-day weather forecast available
Find out the temperature in your area
Learn about wind speed and direction
Information available about air quality
Keep track of rainfall in your area
View detailed weather maps for any location
Option to add multiple layers to the maps
Weather alerts to inform you about inclement weather
Conclusion:
Weather by Weatherbug is an app that is marketed towards people who don't want their plans to be ruined by the weather. It enables them to stay ahead of the weather and plan their outdoor activities accordingly. It is an excellent app to have on your phone if you want to get an accurate weather forecast for your area.
---
Add a review
Tell us your experience with
Weather by WeatherBug: Real Time Forecast & Alerts
RELATED PROGRAMS
Our Recommendations
---
---
---
---